FOR OUR GUESTS WHO ARRIVE BY AIR
From the "Marco Polo" airport in Tessera you can choose between the "Fly bus" (owned by A.t.v.o.) that runs regular shuttle service to P.le Roma at 3 Euro per person, bags included (the trip takes about 20 minutes), bus 5 owned by A.c.t.v., a taxi, to P.le Roma (which costs about 30 Euro) or the water taxi that costs about 90 Euro and docks near the hotel.
FOR OUR GUESTS WHO ARRIVE BY CAR
Past the bridge "Ponte della Libertà", which links Venice with the main-land, one arrives at the terminal "Piazzale Roma" where most of the public garages of Venice are to be found; as our hotel belongs to the Venitian Hotel Association (A.V.A.), our guests can take advantage of a discount on the parking cost if they utilize the "Garage San Marco"; from there, one can reach the hotel by foot or choose to catch the "vaporetto" (water bus) #2 or #1 and get off at the first stop called "Ferrovia". Later the discount coupon will be delivered by our hotel.
ARRIVING BY TRAIN
It's extremely easy: The Hotel Abbazia is just one hundred meters from the Santa Lucia train station. And you won't have to cross any bridges!
Exit the station and walk to your left. Just after the Scalzi Church on your left, take the first "calle" on you left, calle Priuli dei Cavaletti. Here you'll find the Hotel Abbazia.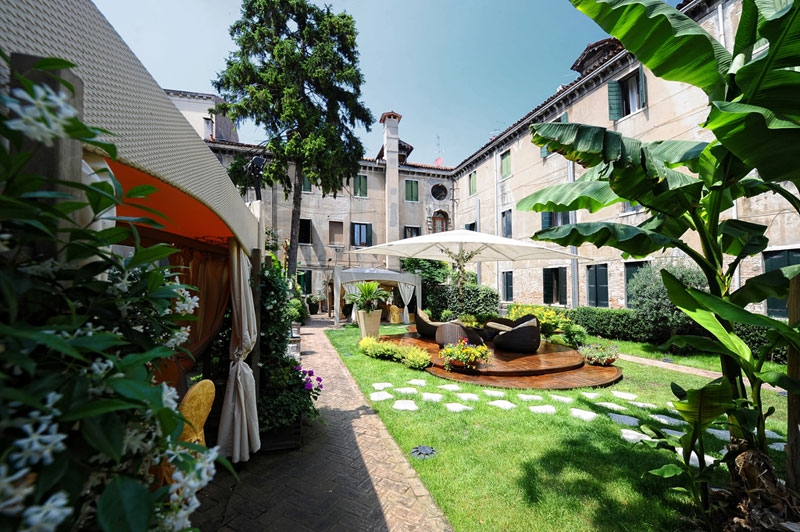 And it's a sudden joy when you descent the stairs of the Santa Lucia train station and Venice appears before you in all the splendor of its Grand Canal. If you're coming from Piazzale Roma, your short walk to the historic 3-star Hotel Abbazia will lead you past the impressive design of the new Calatrava bridge.
Jump into the heart of the lagoon city: don't worry about heavy bags. You won't have to cross any bridges on your short walk from the station to the Hotel Abbazia.